LECTURA DE TESIS DOCTORAL con Mención Internacional en nuestro GIR
STUDY OF COORDINATION CHEMISTRY IN GOLD AND SILVER SYSTEMS. DESIGN OF METALLOMESOGENS.
Ana Beatriz Miguel Coello
Viernes 16 de junio de 2017 Hora: 12 h
Sala de Conferencias del Edificio Quifima.
Directores de Tesis: Manuel Bardají Luna, Silverio Coco Cea y Pablo Espinet Rubio.
El tribunal formado por los profesores Juan Forniés Gracia (presidente, Univ. de Zaragoza), María Jesús Baena Alonso (secretaria, UVa) y Katerina Soulantika (CNRS, Francia) decidió por unanimidad distinguir la tesis con la máxima calificación: Sobresaliente Cum Laude.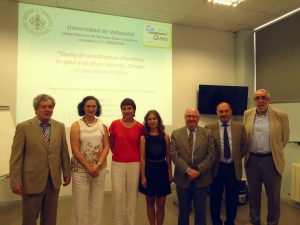 Foto: la nueva doctora junto al tribunal de la Tesis y sus Directores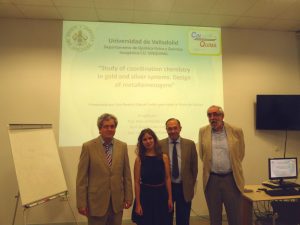 .
Foto: Ana  Miguel con sus directores.